Is it wrong for me to struggle with anxiety?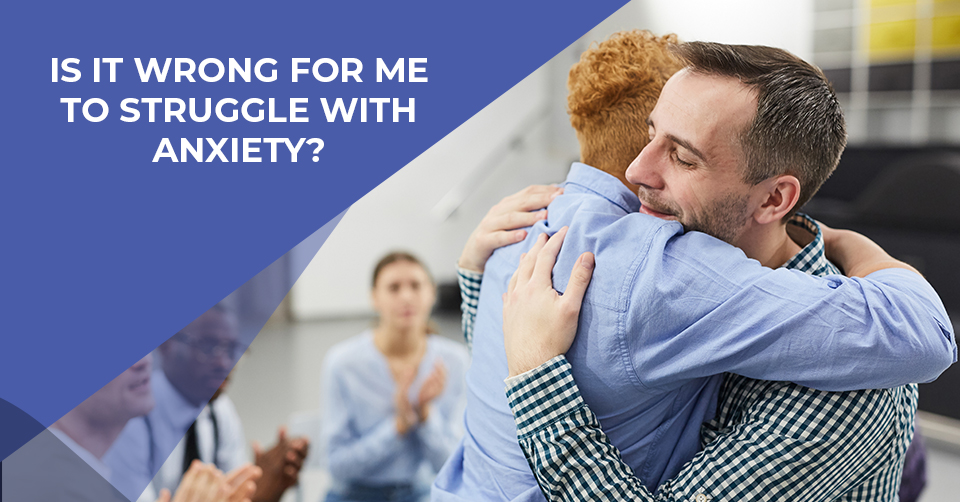 Of course not. Even Christ struggled with anxiety and worry in the Garden of Gethsemane the night He knew he would be arrested (Matthew 26: 36-46). However, if we let our anxieties swirl in our mind unchecked, we risk allowing our faith in God to be choked out, as demonstrated in the parable of the sower in Matthew 13:22, "He also that received seed among the thorns is he that heareth the word; and the care of this world, and the deceitfulness of riches, choke the word, and he becometh unfruitful."
The evangelist, George Müller​, stated, "The beginning of anxiety is the end of faith, and the beginning of true faith is the end of anxiety." Anxieties can hurt our faith unchecked, but our faith in Christ can overcome them. We do not need to let our anxieties control us, nor do we need to let them be our identity. Instead of saying "I'm an anxious person," say "I'm a follower of Christ that struggles with anxiety." Your identity is in Christ first, not in your struggles.
Also, seek fellow believers to come alongside you, to pray for you when you are feeling anxious or worried about the future. Christ has given us victory over our temptations and fears, as 1 Corinthians 10:13 says, "There hath no temptation taken you but such as is common to man: but God is faithful, who will not suffer you to be tempted above that ye are able; but will with the temptation also make a way to escape, that ye may be able to bear it." Also, don't be ashamed to seek out the help of a licensed Biblical counselor to help you work through your anxieties as well. (Great placement if we have any partnerships with any Christian counselors)
Finally, if you're struggling with anxiety and haven't accepted Jesus as your Savior, you can find out how to be saved here (article that I've drawn up and will attach).